Google Street View Master Photographer Paul Toogood – stunning, high res virtual tours inside your business featured on Google Street View and Google Maps- hotels, restaurants, shops, retail services and more.
Paul has been the officially listed and certified Google Street View Pro Photographer for North Queensland since 2011, featuring more than 100,000 images on Google showcasing North Queensland, Mackay, Townsville, Airlie Beach, Darwin and Gulf Country region and businesses to the world.  As at June 2019, there have been 47,150,433 views on photos taken by Paul of Tropical North Queensland businesses, tourism hotspots and so much more.
Paul's work is featured on many websites in Australia and overseas – scroll down for direct links to some of the virtual tour photography over the last few years.
"If you can find hangars of GBR Helicopters in Queensland, Australia, then you can find an innovative Easter egg laid by Trusted Photographer Paul Toogood. Similarly to C Inside Media's meta-fictional TARDIS, Toogood has blended Street View with reality by giving a digital robo-helicopter the gift of flight. Advance your avatar across the tarmac toward the helicopter to get airlifted to Middle Cay, a remote island atop the great barrier reef. Land ho!"
"Congratulations Paul, that's awesome to hear!" – in relation to a website featuring one of our Google Virtual Tours winning a QLD Multi Media Award in 2013.
"Looking great +Paul Toogood" – one of our website pages featuring our photography using the new Google Photosphere product.
"It's carried out in the air, in  freefall with parachute, hundreds of feet above ground, beneath a beautiful beach on the Australian enchanted corner. Its name is "Tandem Cairns Beach Skydive " made by the Google trusted photographer Paul Toogood. Exploring so many emotions between heaven and earth, new points and areas of interest explode. It is absolutely the most spectacular and  imaginative tour uploaded to Tourmake. And this also helped Paul Toogood  to win the first Tourmake Award, the prize that each month gives a credit to the best performer photographer, those who made the highest number of tours or the most beautiful one. In November Tourmake  awarded Toogood and his most spectacular tour!"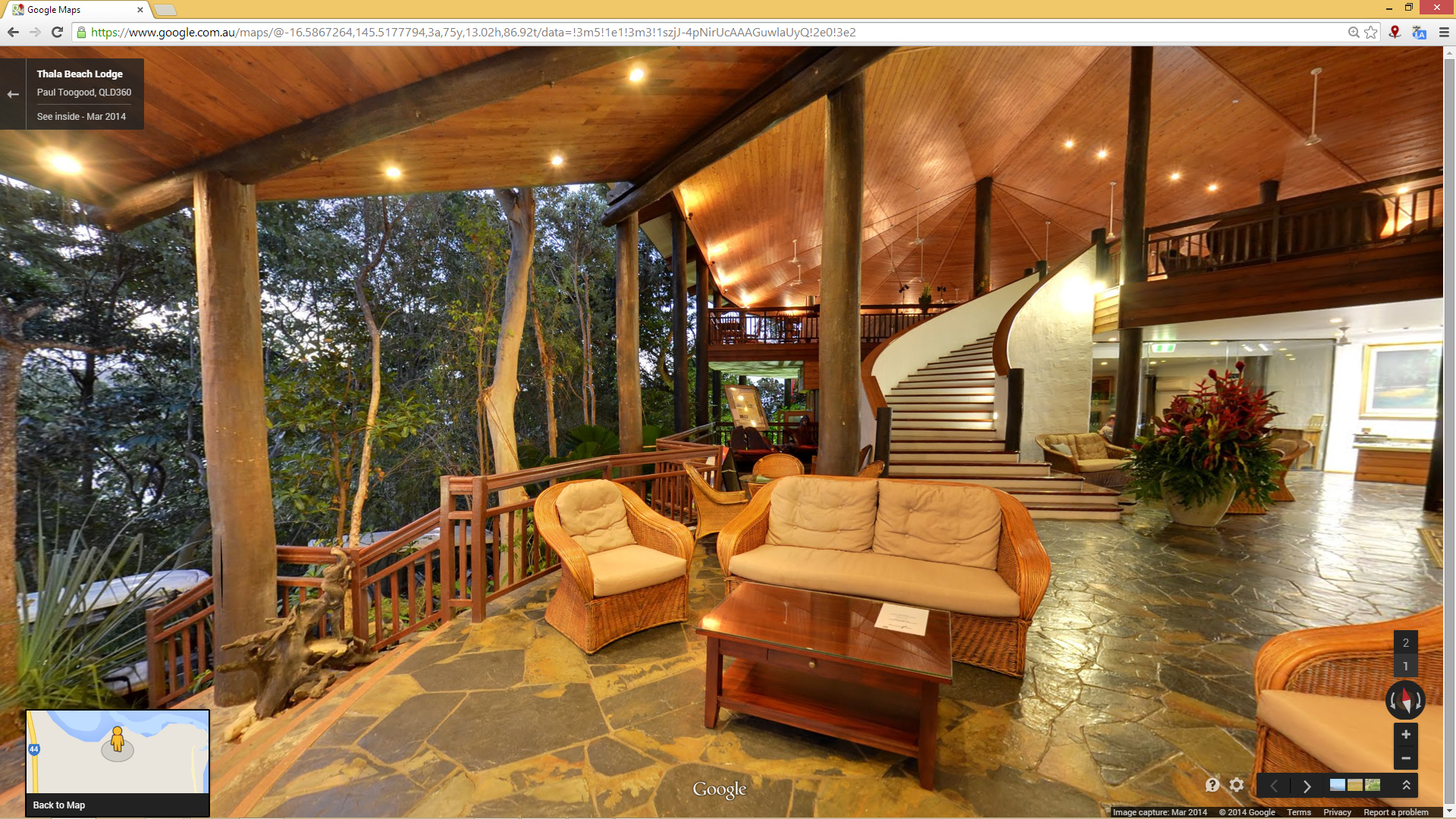 Those who view a listing with a virtual tour are twice as likely to be interested in booking a reservation there. And among 18-34 year-olds in particular, prospects are 130% more likely to book based on a tour.*
Among people surveyed, 67% want more business listings to have virtual tours. Of the remainder, 26% were indifferent, and 7% stated that more virtual tours were unnecessary.*
When searching for restaurants and hotels online, 62% of people use Google.*
Email:  paul@qld360.com.au
Phone: 0429 930380
You've heard the saying "A picture is worth a thousand words' … does that apply to your business?
Are you a resort, hotel or apartment with stunning views over the rainforest or beach that creates that emotional tipping point to turn a potential customer into a guest into a customer?
Are you a restaurant or cafe with a welcoming dining area, attractive decor or views over the water, beach or rainforest that existing customers love and keep coming back for?
Are you perhaps a little boutique with exquisite collections that customers love browsing thru … captivated and enticed thru your front doors by how your shop looks and how you have everything displayed?
How do you put that scene …
… that sells your business in front of potential customers?
With a Google Street View Virtual Tour!  Potential customers will be able to 'walk inside' your business in a stunningly interactive, high resolution 360 degree virtual tour.
On average, it should take no more than 7 days to have your business showcased on Google Street View/Maps in gorgeous high res HDR imagery.\
Site inspection and quote – agree on a price;
Invoice for once only payment – no ongoing costs or charges;
We shoot a series of 360's using Google specified equipment – up to 150mb per panorama!;
We upload the 360's to Google;
We manipulate images, panos, links, GPS positioning and then connect your tour to Google StreetView;
You're 'live' on Google showcasing your property/business in stunning high res HDR imagery;
You promote/publicise the tour and embed it in your website.
Defining points to the above – lighting and weather conditions can affect the quality of the images.  Some business/property scenes are best shot on dusk or dawn with the magical light balance between inside and outside … say a bedroom with bedside lamps on with the view thru the balcony and to the outside with the sunset lighting palms and beach creating a stunning 360 image. Takes a little longer, can cost a little more but the images can be simply breathtaking … and as such are likely to be a better sales tool for your business.
** Do you have a business?
** Are you looking for consumers?
Google states – "97% of consumers search for local businesses online"
*Study details
Quantitative market research was conducted in July 2015 by an independent market research firm to understand the impact of virtual tours on increasing consumers' interest in local businesses (specifically in booking a reservation at a hotel or restaurant).
An online survey was conducted with consumers who had searched online for a restaurant or hotel within the previous 30 days (using any device).
A total sample of 1201 respondents was collected between July 21st and August 2nd, 2015.
Different versions of a local business listing (one for a hotel, the other for a restaurant) were created to include basic info, photos and/or a virtual tour (the same media were used to create each version).
Respondents were asked to view one of the different versions for each business (in a randomized order). Each respondent viewed:

1 hotel listing + 1 restaurant listing; and
1 listing with a virtual tour + 1 listing without a virtual tour.

Note: Presentation of alternate listings were randomized evenly and consistently throughout field.

After viewing each listing, respondents were instructed to rate their interest in booking a reservation.
Ratings for alternate listings (with a tour versus without) were aggregated to understand impact of virtual tours on interest in the featured business.
Email:  paul@qld360.com.au
Phone: 0429 930380
Around 20% of TNQ Hotels and a wide range of businesses now feature a Google Street View Virtual Tour:
Email:  paul@qld360.com.au
Phone: 0429 930380